Flooring Solutions Joins PHILCONSTRUCT 2019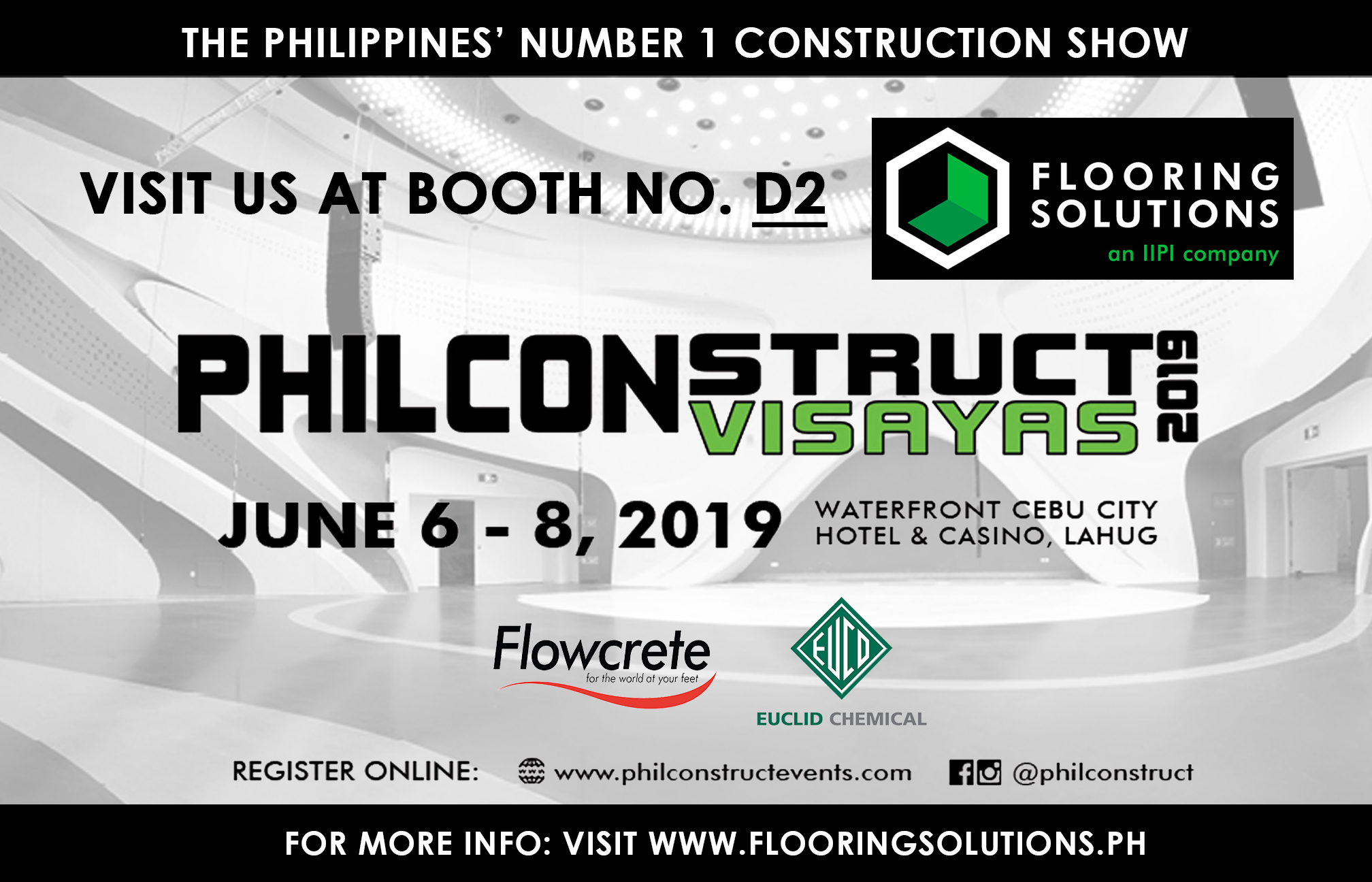 The country's largest construction expo, PHILCONSTRUCT, is back in June 6-8, 2019 at the Waterfront Cebu City Hotel and Casino. Serving as the annual event for the country's leading construction companies and suppliers, PHILCONSTRUCT 2019 is organized by the Philippine Construction Association Inc. as a way for these companies to connect with each other and pave the way towards new construction projects and establish new business networks.
PHILCONSTRUCT is also an event that attracts both local and international construction companies and suppliers across the world. From producers of construction vehicles, heavy industrial equipment providers, paint companies, air conditioning and ventilation, and PU flooring from the Philippines, PHILCONSTRUCT is represented by thousands of brands and over a dozen different countries.
PHILCONSTRUCT: Global Industry Event
Being an international construction industry event, companies, engineers, and business heads from countries such as Japan, China, Malaysia, Korea, Singapore, India, Jordan, Taiwan, Vietnam, Spain, and the United States. These representatives from across the world provide their expertise and products, along with building networks and connections with Philippine companies, government officials, and company stakeholders in aiding with their upcoming projects.
Along with building partnerships and promoting products, PHILCONSTRUCT also conducts a variety of seminars during event days. These seminars and workshops allow experts to impart their knowledge to some of the country's top engineers, architects, and designers, providing them with a wealth of knowledge that will help them create more innovative solutions and practices that would benefit the construction industry.
This year's set of seminars and workshops at PHILCONSTRUCT 2019 include seminars about equipment management, the use of drones in construction, lashing and safe rigging practices, green construction practices, building safe formworks and scaffoldings, the plumbing industry, and becoming an efficient work site leader.
For over 20 years, PHILCONSTRUCT has been the largest construction industry event in the country, becoming a trusted industry name in the trade events scene, and providing the best return for investment.
Top Suppliers in the Philippines at the Biggest Construction Show in the Philippines
Among the thousands of companies joining this June's PHILCONSTRUCT 2019 event is Flooring Solutions, one of the top suppliers of PU flooring in the Philippines. With a team made up of the top resin flooring experts in the country, Flooring Solutions Philippines only aims to provide the best flooring service no matter how big or small the project is.
Flooring Solutions only provides services of the highest quality, ensuring that quality control and management is properly observed. Services include site inspection, product presentation and specification, supply, design, surface preparation, application, maintenance and repair, and after sales support.
The company has also been awarded product certifications such as the Polygiene Antimicrobial Certification, HACCP International Certification, Green Label Certification, and Cleanroom Certified Materials.
Key Takeaway
Trusted by industry experts nationwide, Flooring Solutions Philippines provides quick and efficient installations, high dependability, and the best customer experience available. With PHILCONSTRUCT 2019 launching in two weeks, Flooring Solutions aims to collaborate with some of the biggest local and international construction companies and become part of some of the largest construction projects in the country and beyond, establishing new business partners and networks in the process.