How to Maintain a Polished Concrete Floor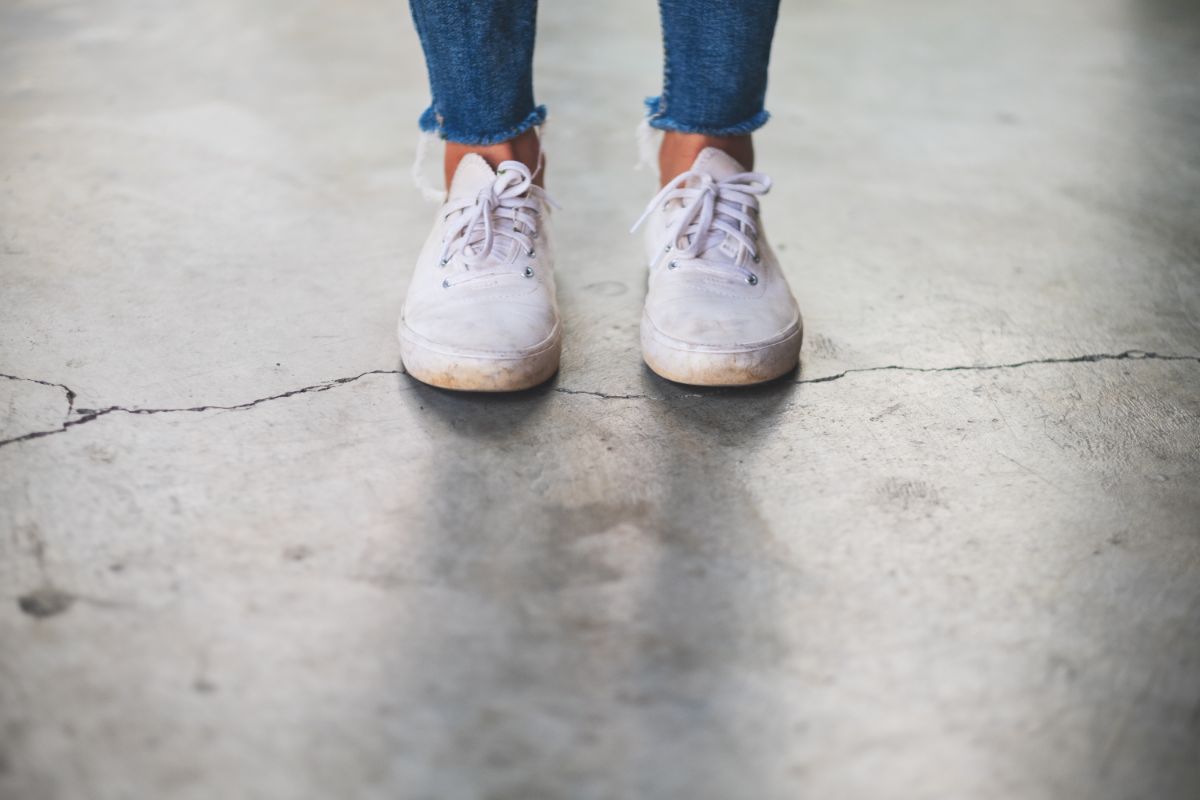 How do you maintain your polished concrete floor?
Dust mop daily with a clean microfiber cloth pad.

Clean spills immediately.

Periodically reapply floor sealer to minimize wear.

Mop with clean water and a neutral-pH floor cleaner weekly.
A polished concrete floor is generally low-maintenance, but that doesn't mean it doesn't require any maintenance at all. If you want to preserve the quality of your floor, it really pays to do some upkeep, as well as the occasional restorative and protective maintenance. Doing so can help reduce damage and maintain its clean, sleek look for decades. 
You might be wondering how to conduct this maintenance and how often you need to do it. Well, this article has the answers for you. Here are our tips for polished concrete floor maintenance.
Dust mop daily with a clean microfiber cloth pad
To understand how to maintain polished concrete, you have to consider the ways it can be damaged, so that you know what to prevent. One of the things that can cause damage to concrete floors is abrasives, which ruin the shine and clarity of polished concrete.
You may imagine that small stones and debris brought in from the outdoors can cause abrasion on your floor, and you'd be right. However, even smaller particles of soil or dust can be abrasive, which is why you have to clear those particles away so often.
For the dust-mopping process, a clean, dry microfiber cloth pad is enough to do the trick. Remember to aim for a thorough clean, including areas where dust and soil may have collected over time like corners, small spaces, and the like.
Clean spills immediately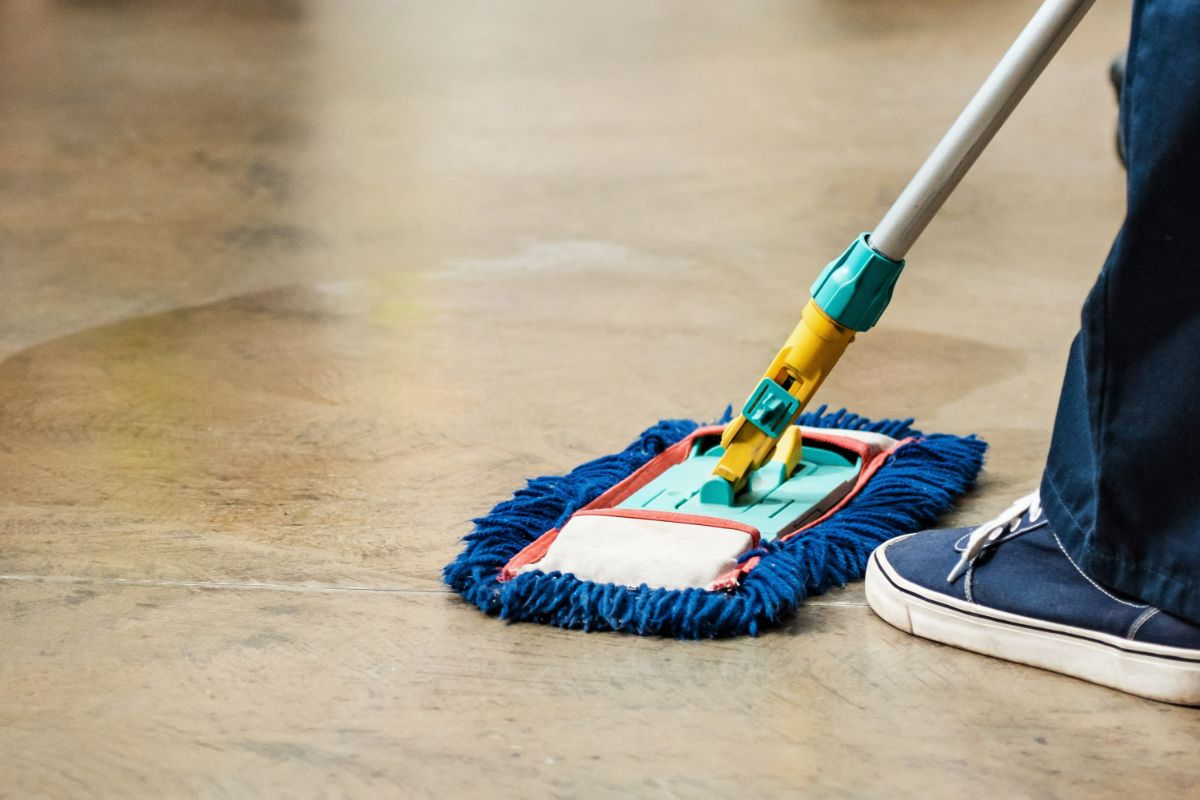 Accidents happen all the time, so it's no surprise that your floor will be victim to spills at one time or another. When this happens, don't let the spill sit and damage your flooring, as this can cause discoloration and ugly stains. Additionally, polished concrete is still quite porous, so it can absorb the liquids that seep into it, making stains difficult or even impossible to remove.
The method of cleaning spills varies somewhat depending on the type of liquid spilled. Most kinds of spills should be cleaned immediately with clean water and a clean mop, or a neutral-pH concrete cleaner. 
Adhesive residue can be removed with alcohol or acetone, while greases and oils should be cleaned with a diluted cleaner or degreaser. 
You may also consult a flooring expert regarding what to do for other stains and residues
Periodically reapply floor sealer to minimize wear
When spills and stains occur, and even as they are cleaned, some of the protective layer or "sealer" on the floor polish is removed and will need to be reapplied. Even in places where stains have not been removed, the sealer may still have been a victim of general wear.
To maintain the quality of your floor's polishing, reapply the floor sealer to all areas of your floor. Not only will this create a more attractive shine, but it will also protect your floor from weathering, stains, and acidic etching. After you apply the sealer, make sure you burnish with a high-grit polishing pad to enhance the gloss.
Mop with clean water and a neutral-pH floor cleaner weekly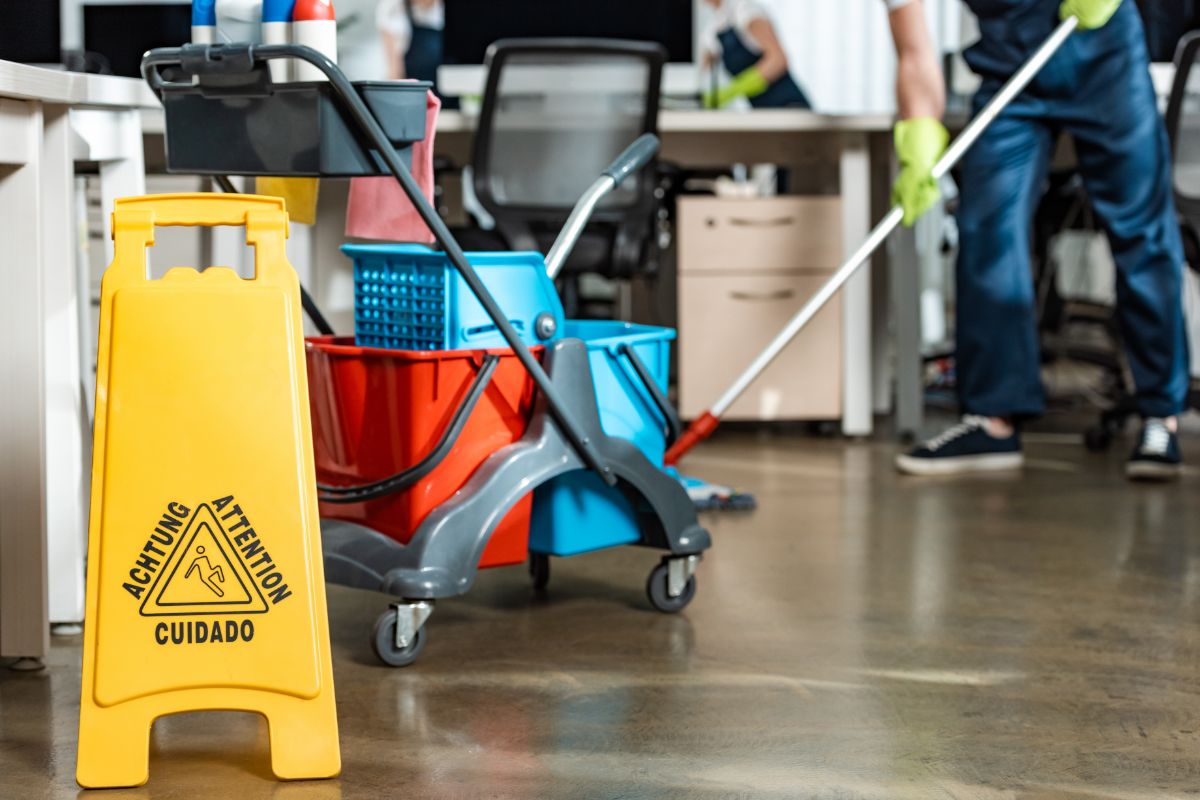 Dust mopping with a dry mop is good, but it's not good enough to preserve the lifespan of polished concrete floors. Mop your floors every week with polished concrete cleaner to wash away debris, dirt, and grime that collect on your floor's surface. 
Make sure you are using a neutral-pH cleaner to suspend the dirt particles and help you remove them easier, as well as to keep the integrity of your floor's surface finish.
For floors that span a large area, work on small spaces at a time to ensure that you cover the whole floor, and keep the specific area you are cleaning wet during the cleaning process. 
Try not to let the cleaner dry on the floor before you fully clean the area, as dried cleaner residue will require additional cleaning to remove.
Key Takeaway
We've given you some tips on polished concrete floor maintenance, which we hope you'll be able to use to keep your floors in top condition. 
Of course, if you notice that your floor has been damaged too much or needs professional cleaning, you can also contact an expert in polished concrete in the Philippines — like Flooring Solutions — to assess and repair whatever damage has occurred. But otherwise, as you can see, you can do a lot of these steps yourself.
For more flooring tips and solutions, check out the rest of our blog. If you'd like a quote from us regarding polished concrete or other kinds of flooring, contact us today. We look forward to hearing from you!