Epoxy flooring in the Philippines has become popular for different companies in multiple industries to use in their business-related structures because its different properties make it a worthwhile investment. In fact, it can last for up to a decade. If your company has been planning to install epoxy flooring like them, these are the essential components that you should know about them.
What is Epoxy Flooring?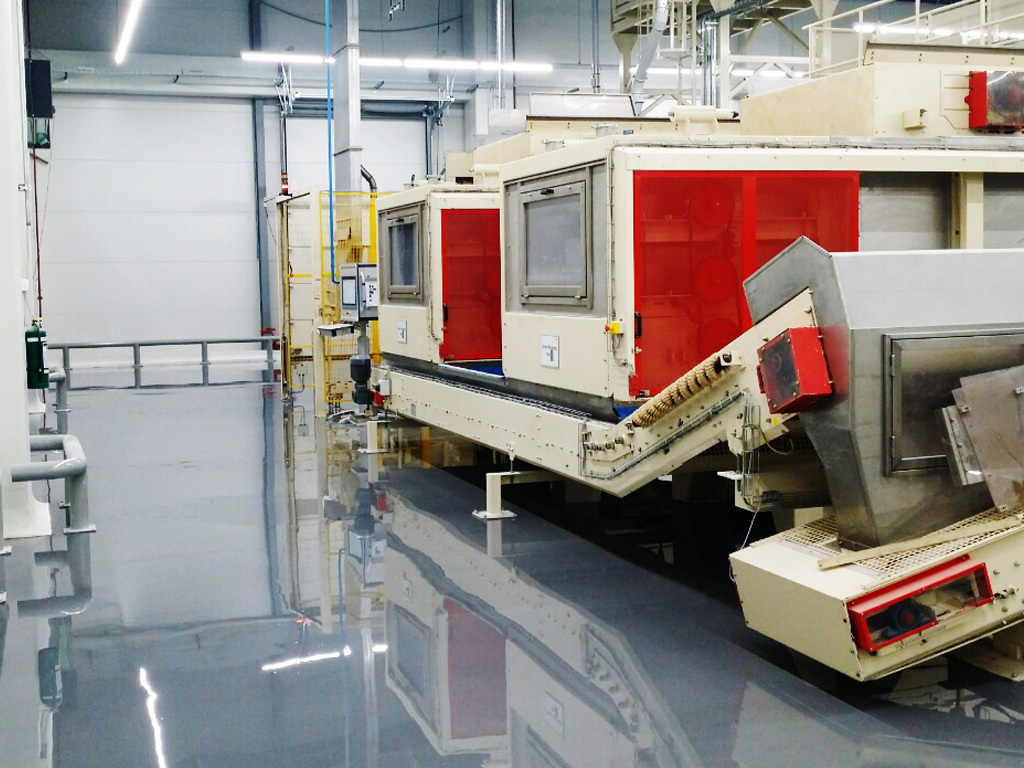 In the Philippines, epoxy flooring is composed of epoxy resin, a molecule with more than one epoxy group. The epoxy resin can harden into plastic and this synthetic compound is made out of the organic compound Bisphenol A diglycidyl ether (BADGE).
Depending on how much Bisphenol A and epichlorohydrin is mixed together, the resulting epoxy resin can have a mean molecular weight which will make them fluid or solid at room temperature. For example, a 380 mean molecular weight will make a resin liquid, while 1000 mean molecular weight will make the same item feel a lot harder. Because of this characteristic, the epoxy resin can be called a versatile material.
Epoxy is also versatile because it can be mixed with other materials for specific results. The fillers and thickeners added to epoxy resin include:
Ceramic
Ceramic fillers such as quartz and silicon carbide help in terms of stability, rigid bonding, chemical resistant, and compressive strength. It overall enhances the mechanical properties of epoxy.
Metal
Metal fillers used to mix with epoxy are aluminum, stainless steel, iron, nickel, tungsten, and silver.
Since the 1950s, epoxy has also become a popular material for adhesives as well.
Epoxy adhesives are made by mixing resin and a hardener. These are used for a lot of building projects. These adhesives are commonly offered as a one-component or two-component systems. You will see epoxy used as a material for decorations and architectural pieces.
The Advantages of Epoxy Flooring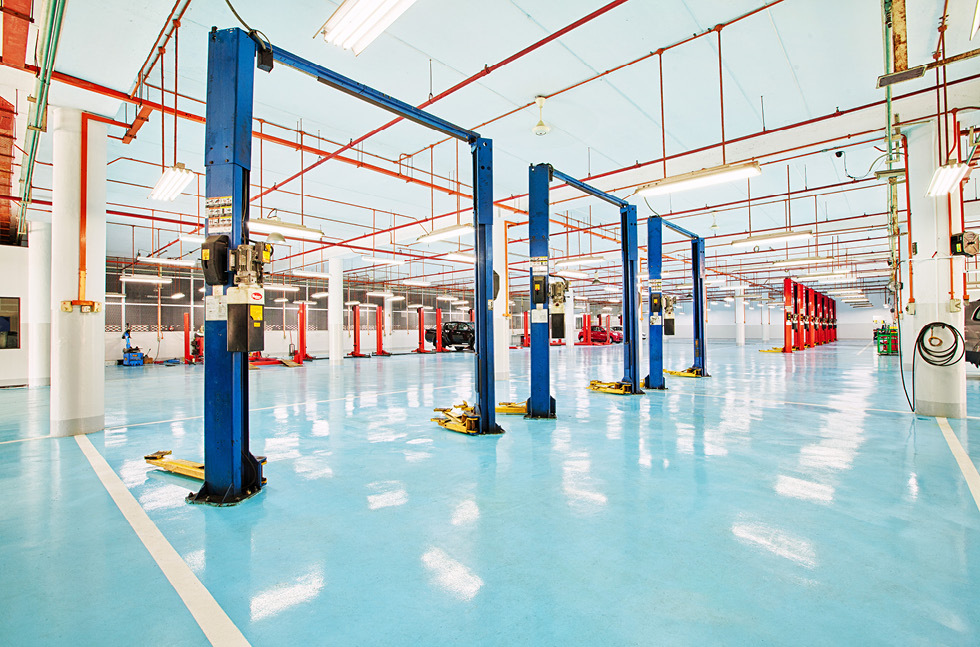 In the Philippines, epoxy coating and flooring are some of the most popular applications of epoxy. It is flooring that will provide structural support and protection because it has a coating made out of epoxy resin. Many industrial facilities have chosen to install epoxy flooring because of its many advantages listed here.
Durability
Durable flooring is defined as flooring that can last for a long time. Floors are one of the most abused parts of any structures because it usually deals with these occurrences on a daily basis:
Foot traffic wear and tear
For many industries, pedestrian foot traffic is an expected problem. Industries such as party venues, hotels, and retail, base their sales on the number of customers that visit. Thus, it a floor that can handle that many people walking.
Spills
Spills from different liquids can damage the floors by going inside the pores and entering the layer of the subflooring between the joist and the bottom plates. When there is too much water, the subfloor can be wrecked because it has become a breeding ground for mold. Mold tends to eat whatever material it chooses to breed in.
Water cannot enter epoxy flooring because it cannot go through the barrier created by the epoxy resin
 Mechanical equipment scratches
Mechanical equipment, including moving vehicles, can leave a lot of permanent scratches because it gives the floors abrasion and abrasion accumulation can peel layers of a floor until it becomes too weak to handle anything. Equipment, like forklift trucks, remove layers because their dragging nails move them.Epoxy flooring can remove this sort of abrasion because its compounds are cured, making them structurally harder and too difficult to remove with dragging motions.
Compression Strength
Compression strength refers to how much material or item can carry loads before failing and epoxy flooring in the Philippines can deal with a heavy mass on top of them because it has a strength of more than 10,000 pounds per square inch. Most floors like concrete only have up to 5000 pounds per square inch.
Versatile Appearance
Depending on the coating applied you can get epoxy floors in different colors and designs. The most well-loved designs include
 Gravel
Graveled epoxy flooring have gravel looking patterns thanks to the decorative flake chips and polyaspartic coating technology added. Schools and malls are some of the biggest consumers of gravel flooring for many reasons. One, it is elegant. Two, its stone-like appearance hides debris well and thus, it means less cleaning.
Patterns
Abstractly patterned epoxy floors are loved by a lot of offices and professional spaces. They are able to accomplish these appearances by combining precise lines and shapes with blocks of color.
3D Prints
Homeowners especially love epoxy floors with 3D images printed on it because they have the freedom to choose what picture to be used and usually make the image fit the overall design of their home. For example, an epoxy floor with a 3D image of a forest will go very well with a Zen-styled house.
Chemical Resistance
Epoxy, just like other polymers, are naturally resistant to different chemicals. Epoxy flooring in the Philippines is resistant to a lot of these toxic substances because it is also mixed with catalyzing agents that harden it. The common compounds it is resistant to include:
 Acetic Acid
Ammonia
Barium Carbonate
Calcium Hypochlorite
Aniline
Benzol
Carbon Tetrachloride
Calcium Sulfate
Amyl acetate
Low Maintenance
When it comes to caring for floors, most working people have the most problem with cleaning. This is especially true with concrete floors. While the food and manufacturing industries love them for their reliability, these floors are very porous and will absorb a lot of things. Typically, they will absorb:
Adhesives
Will extend the life of a product by making sure its components stick together through the application of a PU sealant. Since the adhesives push things to bond with each other naturally, manufacturing costs can be cut since companies do not need to use any physical clamping and holding parts.
When these liquids accumulate in the pores, pathogens and bacteria can grow. The floors can become a health hazard.
Thus, a lot of industries would rather go with epoxy flooring since it is just as strong while being non-porous. The epoxy coating in this will automatically form a protective barrier over the pores in the original floor and make these impervious to all types of liquids.
Safety
Floors, despite their benefits, can become a safety hazard when wet or if it is just naturally slippery. Industrial companies need slip-resistant floors especially because workers can drop all types of liquid and they may not have enough time to clean it up. Additionally, floors can lead people to trip if it was uneven due to improper installation.
Slip, trips, and falls have caused major workplace accidents for these industries in particular:
Manufacturing
Food and beverage
Retail
Epoxy flooring in the Philippines will protect your safety because it has aggregates in its constitution. Aggregates are anything grainy or flaky that will add much need traction. The most common aggregates inserted into the layers of epoxy flooring include.
Silica Sand
Customers are fond of epoxy floors with silica sand because it gives traction to lubricating liquid spills such as oil. You can easily find silica sand floors in most machine shops.
Polypropylene spheres
Retail stores prefer floors with Polypropylene spheres because they will keep their customers from falling, but at the same time, make them spend less on maintenance. These sphere surfaces do not accumulate much dirt and people need to spend less time cleaning them as a result.
Aluminum oxide
Out of the four aggregates, this has the most slip-resistance because it has the hardest structure and you can feel it even when it is hidden in the resin of the epoxy flooring. These are used by food and beverage industries that deal with a lot of by-products that not only make people get into accidents but is difficult for them to clean.
Colored quartz
Malls prefer epoxy flooring with color quartz because it can fulfill both safety and decorative purposes.
Affordability
Installing epoxy flooring into your building does not mean you need to spend extra costs on removing your old one. Epoxy flooring can be installed over old ones and these will definitely cut down on your spending.
Natural Glossiness
Epoxy floors, because of the coating applied to it in the production process, always have a natural glossiness. These automatically make dark-colored rooms seem brighter and larger.
Guide to Choosing the Right Epoxy Flooring System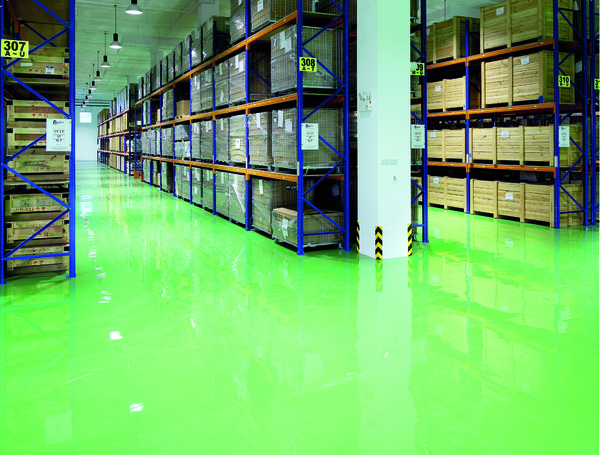 In this part, you will see what is the right epoxy flooring system to get based on what industry you work in.
Self-Leveling Epoxy Floors
As the name suggest, these systems naturally self-level to form an even surface and these make them better than other flooring since they tend to be uneven.
Self-leveling epoxy flooring in the Philippines is loved because of its smoothness and good slip-resistance. You will know a floor is self-leveling if it has at least a thickness of 2mm.
Self-leveling epoxy floors have been used in structures with intense work environments including:
manufacturing facilities
warehouses, showrooms
commercial garages
kitchens
Quartz-Filled Epoxy Floors
Quartz-filled epoxy flooring in the Philippines is loved for its beautiful appearance. Here, you will see that epoxy resin is mixed with quartz stones of different colors and textures. These quartzes also add some needed slip resistance.
You will see these floors in educational and commercial spaces.
Locker rooms
Restrooms
Schools
Cafeterias
Lobbies
Offices
Anti-Static Epoxy Floors
These epoxy floors, as the name suggests, can resist electro-static charge (ESD). ESD is an extremely dangerous problem that can occur in work environments that deal with a lot of insulators and conductors. It is an issue that occurs when two objects, including humans, come into contact with each other and an electrical flow happens between them.
ESD is dangerous because the heat produced is so hot it can vaporize objects, make electrical devices fail, and even kill humans. Fortunately, anti-static epoxy flooring can prevent these issues from happening in the future because it has a conductive material core. The electrical flow will be absorbed by this conductive cover and it will be completely drained or dissipated. Nothing gets harmed as a result.
Healthcare facilities
Electronic manufacturing facilities
Chemical manufacturing facilities
Pharmaceutical manufacturing facilities
Flammable material producing facilities
Common Types of Epoxy Flooring
Much like PU Flooring in the Philippines, epoxy flooring comes in many types. Each with their own special property to fit the needs of clients and customers. Let's get to know the common types of epoxy flooring and what they're used for.
Epoxy Coating
Epoxy coating is used for a variety of purposes; typically, they are used to reinforcing and strengthening the quality of floors. Many other benefits come with applying epoxy coating on your floor, a few of these are chemical resistance, ease of cleaning, and improved wear resistance. The properties of epoxy coating make them ideal for factories and warehouses. Here are a few great examples of Epoxy coating products:
Flowcrete Flowcoat HS
Flowcrete's Flowcoat HS is a high performance coating system which features an easy to clean gloss finish which comes in 10 different colors: Ivory, Yellow, Steel Blue, Mid Blue, Light Green, Dark Green, Chilli Red, Light Grey, Steel Grey, and Charcoal. Perfect for warehouses, plants, and factories due to its outstanding chemical resistance and heavy-duty wear resistance.
The Flowcoat HS's abrasion resistance gives it the ability to handle medium to heavy traffic without compromising the quality of the floor. And because this epoxy flooring is solvent free and is considered non-hazardous, it is environmentally-friendly.
Flowcrete Flowcoat CR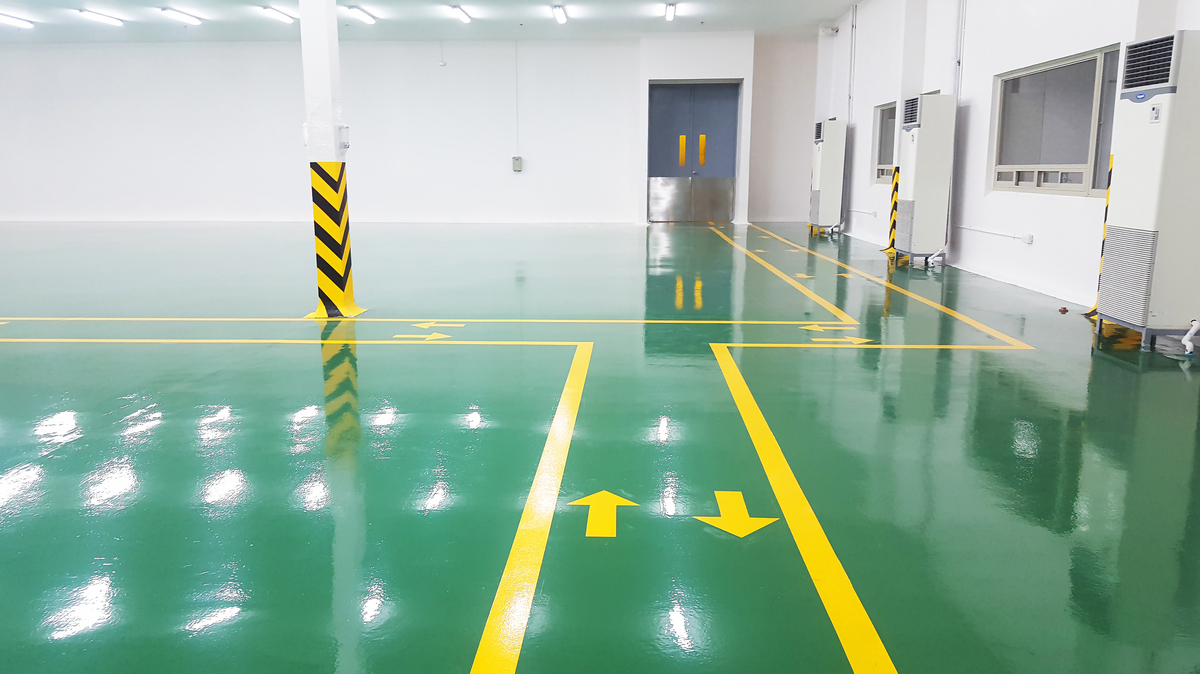 Flowcrete's Flowcoat CR is their chemical resistant coating system which features a gloss finish which is designed to resist potential damage from liquid chemicals and create a slip-resistance profile for your floor. It comes in 10 different colors: Ivory, Yellow, Steel Blue, Mid Blue, Light Green, Dark Green, Chilli Red, Light Grey, Steel Grey, and Charcoal. This solvent free and chemical resistant epoxy coating is specifically made for processing areas, storage spaces, and warehouses which are subject to chemical spillage.
Flowcrete Deckcoat EP
The Deckcoat EP is a Green Label certified water-based epoxy coating that is made to be used in car parks. This satin finish epoxy coating has the potential to brighten up dark car parks and enhance their overall aesthetics. Perfect for both multi-storey and basement car parks, the Deckcoat EP's breathable quality makes this more tolerant of rising moisture and water vapor from car park substrates. Natural to water-based formulations, the Deckcoat EP is a low odor epoxy coating.
Epoxy Terrazzo
Epoxy terrazzo is a flooring system which makes use of thick epoxy resin mixed with a variety of aggregates such as sea shells, stones, and glass. The main purpose of epoxy terrazzo flooring is to decorate one's floor. The decorative finish of the epoxy terrazzo is further highlighted by its resilience and stain resistance.
Flowcrete Mondeco Crystal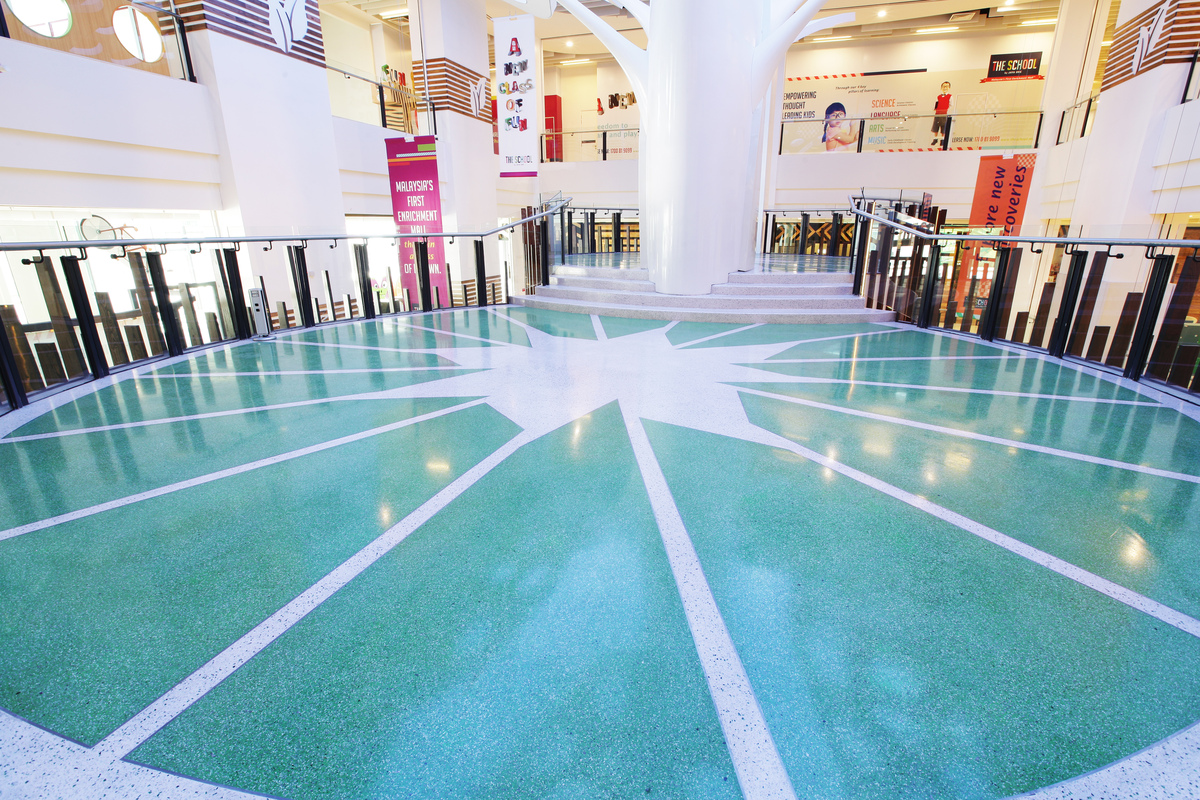 Flowcrete's Mondeco Crystal is an epoxy terrazzo with a highly decorative finish, which makes it suitable for public establishments, building floors, and shopping centers. Its high-end appeal comes with design flexibility with 8 color options Diamond, Yellow, Green, Violet, Aquamarine, Blue, Grey, and Black. The use of clear crystal glass in the epoxy mix is what gives the Flowcrete Mondeco Crystal its lush look. All of which can be tailored fit to suit the demands of the client. You don't have to worry about the longevity of the Flowcrete Mondeco Crystal as well, because it is capable of handling heavy traffic, and stains are easy to clean.
Flowcrete Mondeco Earth
Flowcrete Mondeco Earth is an inspiringly grand flooring solution that is perfect for any indoor setting. Its mix of epoxy, granite and flint makes for a natural appeal on your floor. The 8 colors that are available are Coconut, Almond, Peach, Pomigranate, Tangerine, Chilli Pepper, Kiwi, and Blueberry. Its highly attractive appeal is one of its main qualities, but what makes the Flowcrete Mondeco Earth standout is the fact that it's solvent free, easy to clean, and durable.
Epoxy Mortar
Epoxy mortar is among the hardest forms of flooring solutions and is made out of 100% solids epoxy which is integrated with graded sand and troweled into place. Epoxy mortars have high impact resistance, high chemical resistance, and are very durable. This is mainly used as a heavy duty floor coating.
Flowcrete Flowtex PT
Flowcrete's Flowtex PT is among the toughest epoxy mortars on the market. Typically used in industrial locations, Flowtex PT is perfect for places that are constantly subjected to heavy traffic. But it's not just the heavy traffic that the Flowtex PT is resilient to. In places where heavy loads are at risk of dropping, Flowtex PT will be able to protect you're your floor. The dense flat screen finish, minimizes undulation and protects the floor from a wide range of corrosive chemicals.
These common types of epoxy are all made for different purposes, each with their own specific properties and features. The common goal that all these products share is to protect your floor from damages.
Flooring Solutions: High-Quality Epoxy Flooring in the Philippines
n the Philippines, our epoxy flooring has been formulated to fit commercial, industrial, and Mondéco spaces by answering their needs in different ways.
From polished concrete to polyurethane flooring in the Philippines, commercial spaces such as malls need floors that entice people to visit them through their elegant appearance. We give what they want by making epoxy floors that have a lot of artistically versatile designs, exceptional foot traffic wear resistance, seamless finish, and UV protection. They get to choose from our different collections with different colors. Examples of our collections are Mondéco Crystal, Rustic, and Toronto.
Our industrial flooring has become useful for manufacturing companies in different fields like manufacturing and aerospace because they save money thanks to durability. Unlike our commercial collections, we fully focus here on resistance against these different elements; pedestrian traffic, aggressive chemicals, mechanical vehicle abrasion.
Lastly, we make epoxy floors serve the needs of Mondéco spaces by replicating the extravagant tastes of Ancient Rome. We follow the Roman people's love for color vibrancy, wear resistance, and flexibility. To follow in their footsteps, we mix into the epoxy resin different forms of aggregates that also add beauty to the final appearance of these floors. You will see aggregates such as clear crystal, colored glass, and granite.
Because we have chosen to serve more than one industry, we have become versatile in our talents and we most likely have a solution for you as well. Click here to learn more!