Floors are an essential part of our everyday productivity and safety. It is one of the most substantial parts of any infrastructure as it is the largest design surface and the foundation of the entire interior design. When choosing flooring, especially for commercial and industrial use, you have to consider factors such as durability, aesthetics, and safety. You would want nothing but the best for your space. Because of this, the use of epoxy resin in the Philippines has become a very popular choice for businesses' flooring due to the numerous benefits that it could offer to increase safety and productivity in their workplace.
What Is Epoxy Resin Floor Coating?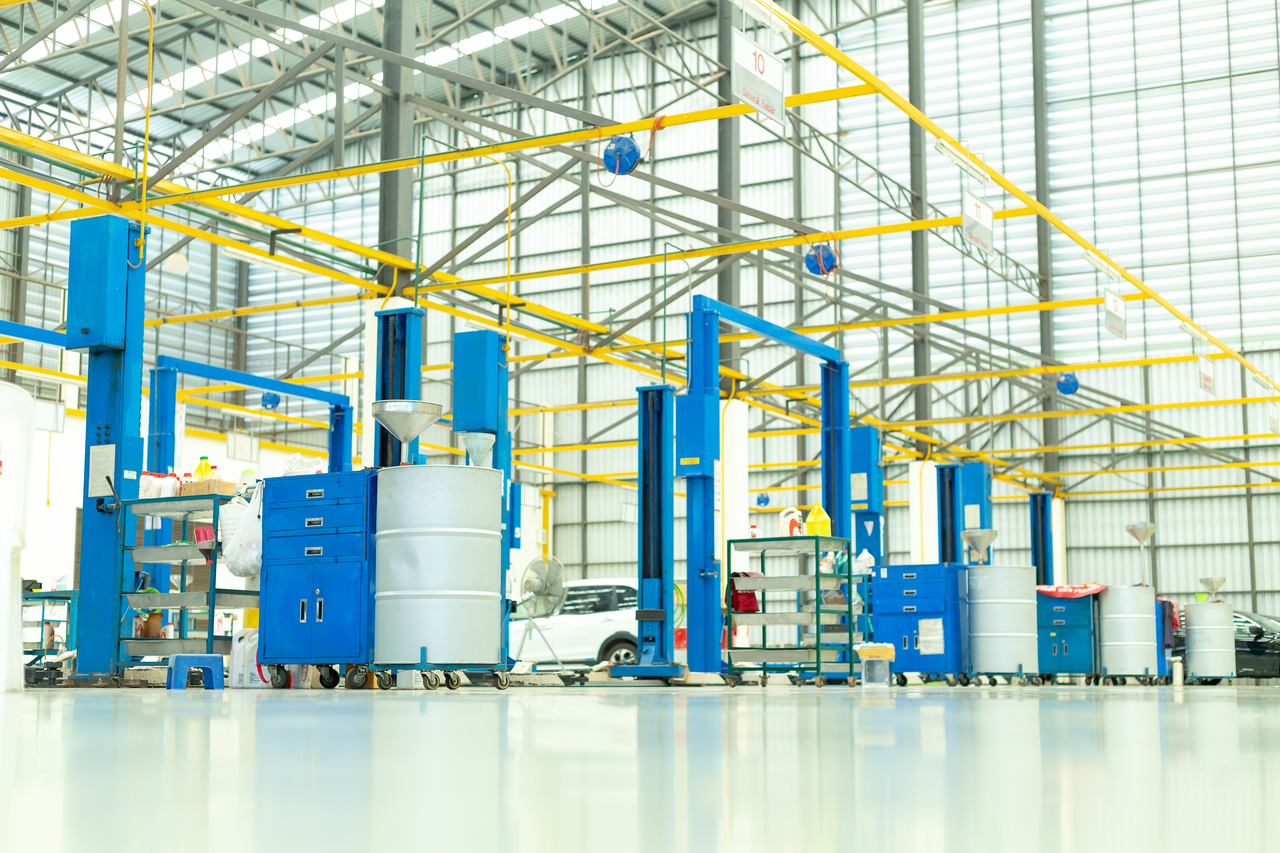 Epoxy resin is the result of curing — a chemical process that involves mixing chemical additives together with curing agents and hardeners. This curing is what produces the qualities of the substance such as resistance, durability, versatility, and adhesion. These additives can be adjusted for your personal preference. Everything that makes up epoxy resin makes it a distinctive solution. What makes this substance special is its versatility to different types of applications and uses. Epoxy is used as an adhesive that generates strong and durable flooring that is able to withstand different situations and will be able to protect your normal concrete surface.
Advantages of Epoxy Resin Floor Coating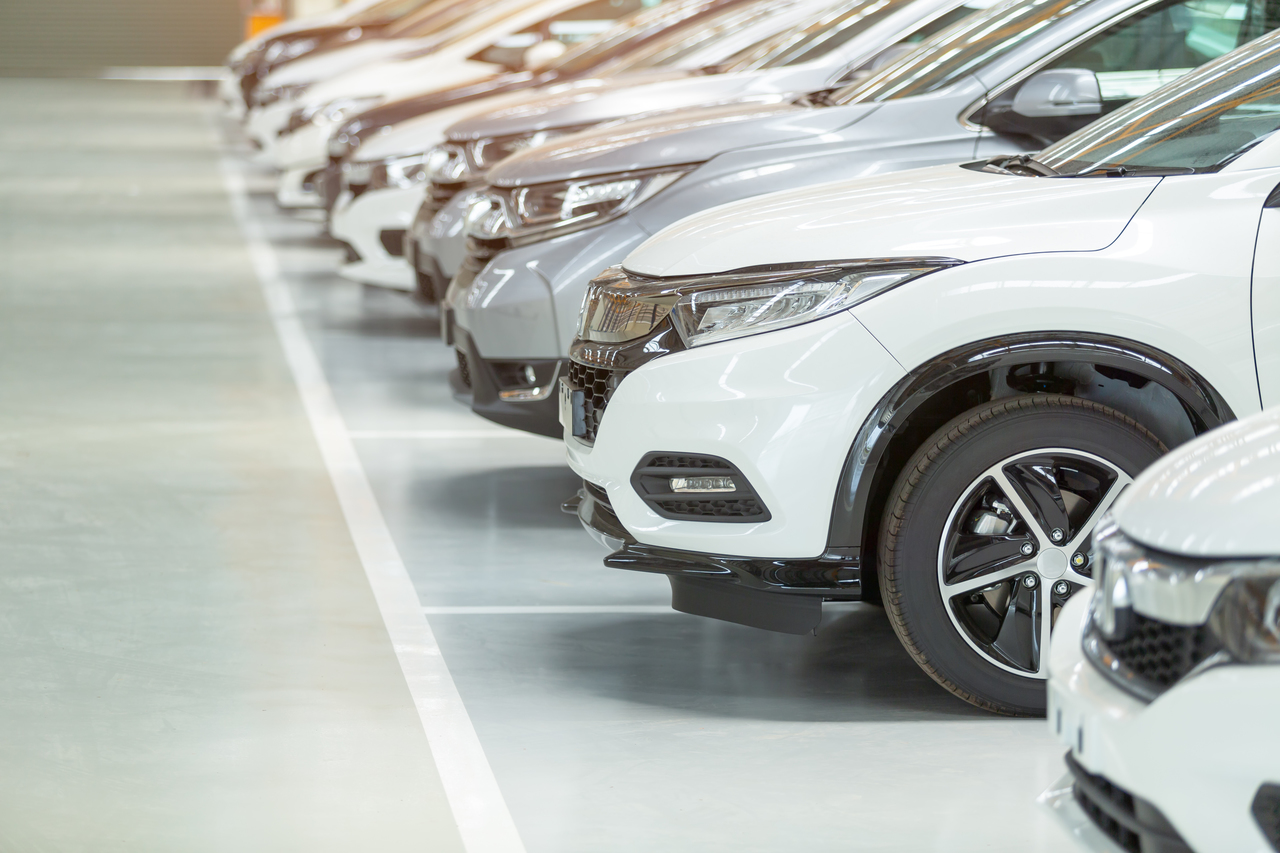 Using an epoxy floor coating over your traditional concrete floors will give you a hard-wearing, high gloss, and durable flooring. This is the ideal flooring for many types of situations and can benefit your industry, garage, basement, and more. Here are some of the primary advantages and benefits associated with choosing an epoxy floor coating.
Epoxy floor coatings will be able to transform your flooring into an absolutely lustrous area. Its reflective, gloss-type finish will complement any type of decorative lighting you have in your space. From artistic, seamless, and contemporary finishes, flooring systems in the Philippines offer a broad range of styles and colors that will surely match your area and preferred taste. If you're expecting a more textured look, some epoxy resin mixtures include bits of flakes or quartz granules bound in a colored resin binder in the mixture. If you are feeling more decorative, an artistic floor finish like metallic expressions can also be something for you to consider. There is definitely a perfect epoxy flooring finish suited to your aesthetic.
Having your traditional tiles bought, measured, and installed surely requires more time, preparation, and costs more compared to epoxy floor coating. Having this installed in your area will not require any floor removal process. If your concrete floor is not providing you the benefits that you expect it to, epoxy floor coating is a simple, convenient, and cost-effective solution, especially for industrial and commercial-style locations. This beats the amount of time and money that the traditional method would cost.
Convenience and minimal maintenance are some of the main reasons why people opt for epoxy flooring. Compared to having just a plain concrete floor on the surface, epoxy coated floors can also serve as dustproof flooring in the Philippines. Dust and cement particles are more likely to be captured by the texture of regular flooring. Having a coat of epoxy makes it easier for you to wipe the dust off with a simple mixture of water and soap. This will be able to save you more time and effort in cleaning the area.
Maintenance is always one thing to consider when you're on the lookout for flooring. Epoxy coating will provide you with long-term satisfaction due to its insulating layer and durability. The floors will not need to be replaced or redone for an extended amount of time. This gives you a significant advantage of regular flooring and its annual maintenance.
It is easy to assume that epoxy coated floors are slippery due to its appearance and glossy texture but this is suggested to be the best choice for anti-slip floorings in the Philippines. You don't have to worry about having to cause accidents such as slipping and falling.
Given that this is a chemical substance that will be applied to your concrete floor, epoxy floors are completely safe when properly applied and dried.
Epoxy flooring has its environmental benefits as well because it doesn't require many materials upon installation compared to the materials and machinery required for other flooring installations. It's sustainable because it does not need to be replaced and renovated constantly.
Resistance of Epoxy Resin Floor Coating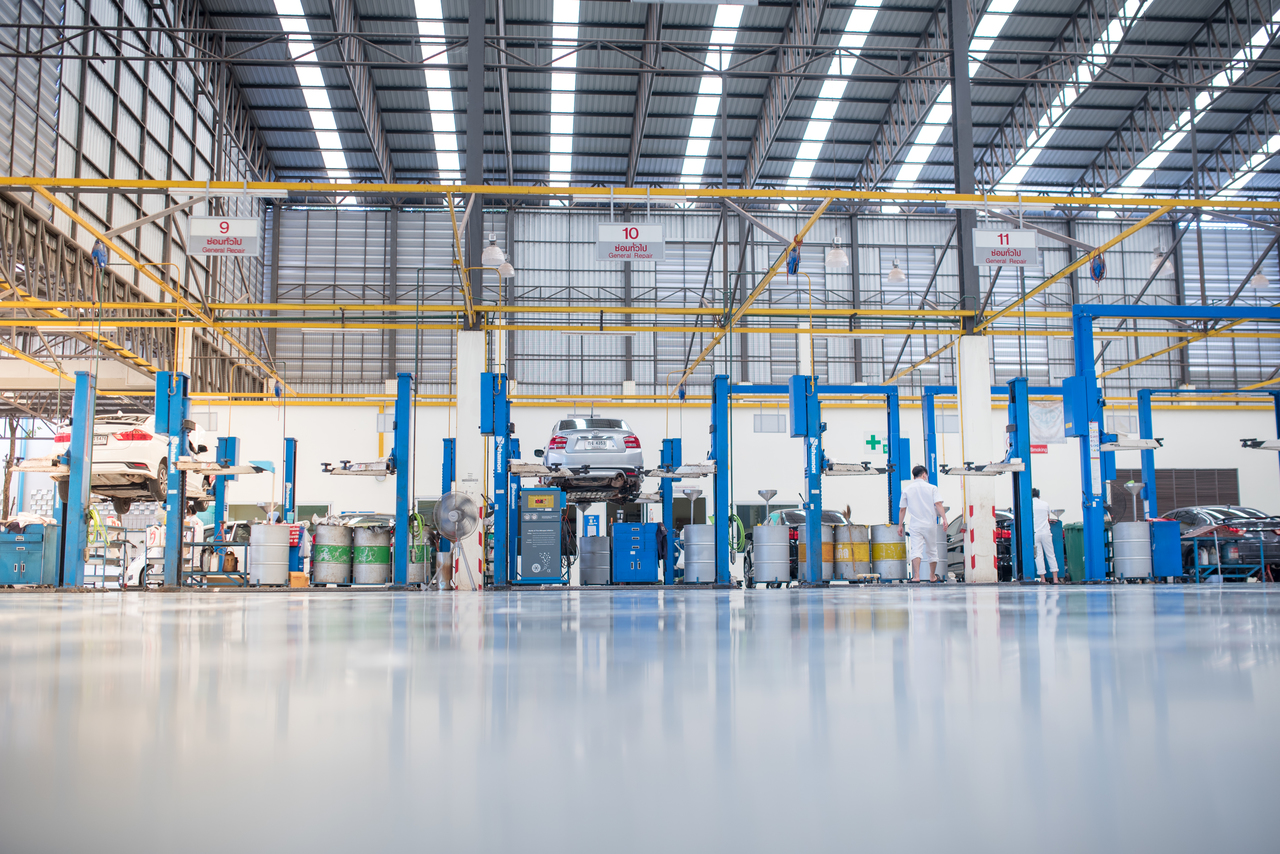 Fortify your area with an epoxy coating because of its capability to block damaging components. Epoxy embodies various types of qualities for resistance which shines a light on its reputation as a quality flooring method.
Epoxy is shock resistant. If one of your worries and factors in looking for flooring solutions for your area are the heavy items falling to the floor or the cars driving on the surface, epoxy flooring would be a great pick. Any tools or machinery used upon a floor with the epoxy coating will not budge due to its distinct layers, strength, and durability.
Once cured and dried, epoxy can resist heat up to 200 degrees Fahrenheit, depending on the grade of epoxy availed. Higher grades of epoxy can resist even higher temperatures compared to the standard. This is ideal for garage and kitchen flooring applications.
Cars, machines, equipment, and the like typically leave behind residues of fluids and oils on your flooring. Chemicals can be cleaned up from your epoxy coated floor without leaving any damage to it. The layers and density of the layering of epoxy construct a barrier to prevent chemicals from seeping through the concrete and don't leave any harmful substances that can induce injuries.
Epoxy Flooring For Industrial and Commercial Use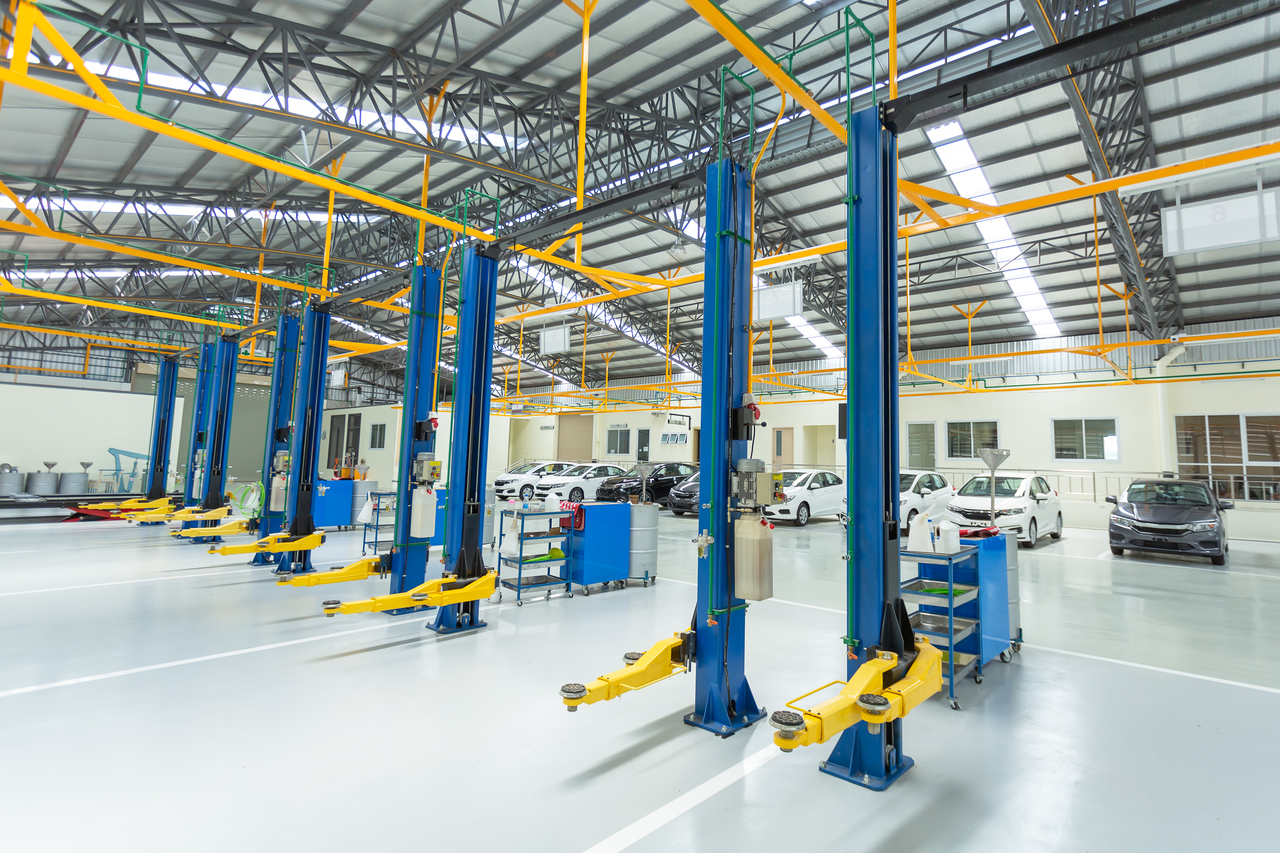 Epoxy flooring is very versatile. It has a wide range of uses across many different industries in the Philippines. Waterproofing, durability, strength, and protection are all the useful benefits that they provide. Here are some of the industrial and commercial uses of epoxy flooring.
Most warehouses opt for epoxy coatings on their concrete floors. Because of the heavy traffic of machinery and vehicles in these areas, the coating of epoxy creates excellent protection for their concrete floors. Since warehouses take such a big amount of space, it would cut the time cleaning faster. Its chemical-resistant properties also defend against the chemicals that spill into the area. Lastly, its anti-slip properties make it an advantage for people on the go without any dangers of slipping and falling.
Epoxy flooring can do wonders for aircraft hangars. It easily absorbs and cleans chemicals that are regularly spilled on the floors. The durability and strength of epoxy coating is needed for this kind of nature of business. The heavy load of tools and equipment need only the best and long-lasting flooring.
Automotive shops benefit greatly from epoxy flooring because of the grease, oils, and chemicals that are regularly spilled on the floors. There are also sharp and heavy parts transported on the floor. Having epoxy flooring will prevent these objects from scratching and chipping the concrete.
Pharmaceutical Epoxy Flooring
You may have observed the hospital floorings in the Philippines making use of epoxy. Epoxy flooring is an excellent choice for this kind of environment. Hospitals require to be clean and hygienic at all times of the day. Having this flooring will make it so much easier to clean and disinfect.
Commercial foodservice kitchen flooring in the Philippines maximizes the advantages and benefits of epoxy flooring. Kitchens are always fast-paced and on-the-go. You can't avoid having a few oil and food spills every now and then. Without the epoxy coating, your floor will be prone to staining and damage. Just like hospitals, hygiene maintenance is required at all times. A coat of epoxy will make it easier to clean and disinfect. This helps maintain a sanitary kitchen and cleaner food.
Get Only The Best Epoxy Flooring In The Philippines From Flooring Solutions!
Transform concrete surfaces in your area by giving it an urban, metallic, rustic, seamless or contemporary finish. Our epoxy flooring will definitely give your area a complete makeover by providing the surface with an elegant and classy finish.
Epoxy resin in the Philippines for flooring has been formulated to fit commercial and industrial spaces by offering all the advantages that they need for quality flooring.
Our flooring solutions are effective for many natures of business such as warehouses, aircraft, automotive facilities, hospitals, showroom floors, and food services. Because it offers an extensive range of benefits and advantages catered to the needs of their area to become a more productive and convenient workplace.
We make certain to provide you only the best epoxy flooring catered to your requirements and needs. Click here to learn more!