Choosing the best industrial kitchen flooring in the Philippines can be a daunting task. It's easy for someone to feel paralyzed by the myriad of choices and flooring solutions available. Ultimately, there are many factors to consider before you purchase the right kind of flooring for your industrial needs. You need to consider the various types of procedures and volume of processes being conducted in your facility. You also need to ensure that the type of flooring you're thinking of buying will last for a considerable amount of time.
Benefits of Epoxy Flooring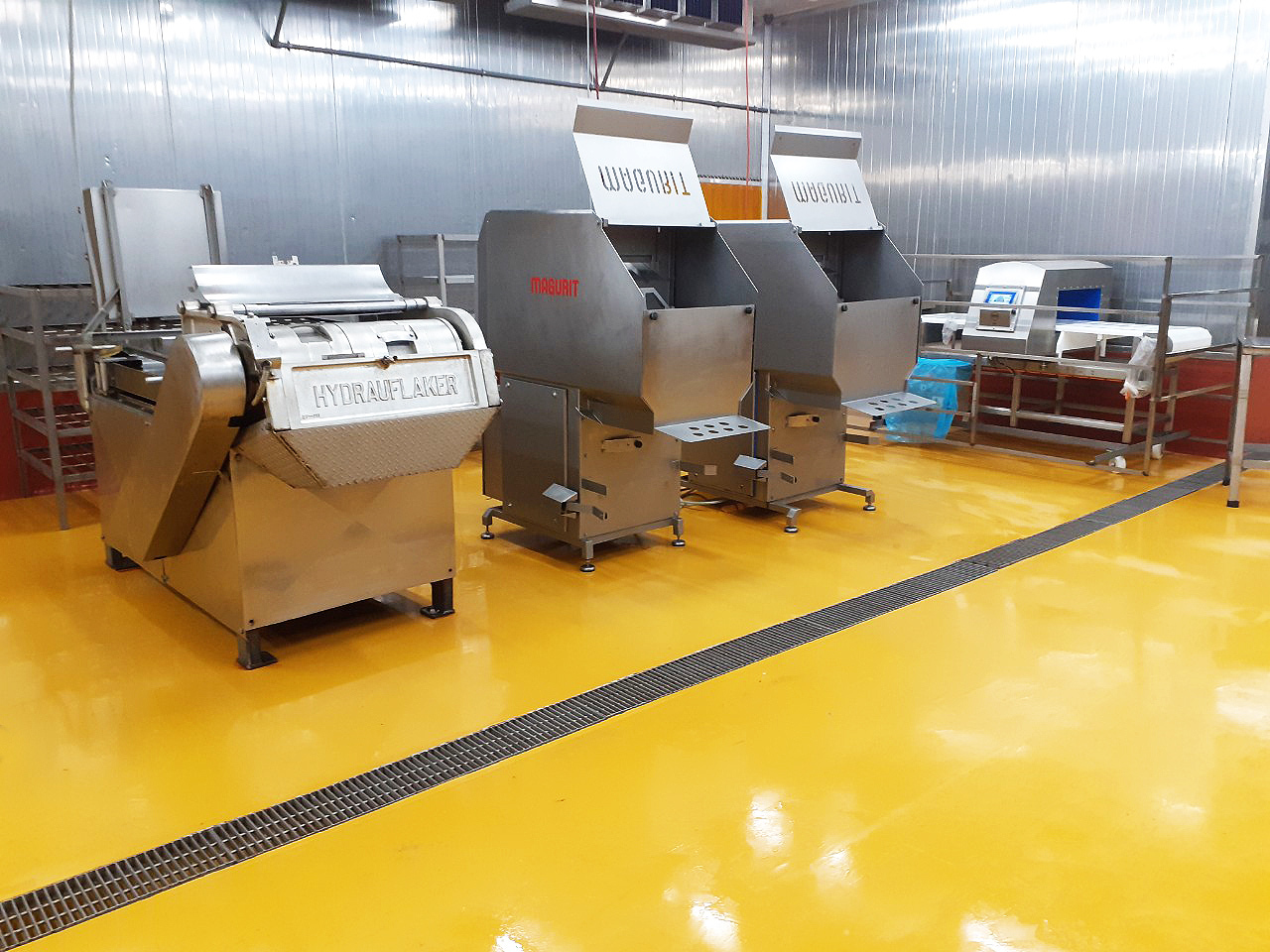 Epoxy resin in the Philippines is one of the most common types of flooring used in local factories. It is easy to clean, moisture-resistant, and abrasion-resistant. This type is highly utilized in these settings because of its reliability and durability. Large-scale food facilities that mass-produce quantities of different products have continually relied on this kind of material for their warehouse operations. It is able to withstand the different kinds of elements at play such as heavy-load transporting, moisture, or even different types of spillages.
Epoxy, however, is not used as a standalone material for industrial kitchen flooring. It has to be paired alongside a porous material such as aerated concrete in order for it to adhere. Only then will industrial facilities be able to reap its benefits. Here are some of the factors that make epoxy flooring so popular:
Food facilities have many different types of factors they have to consider before they begin to look for the best types of industrial kitchen flooring in the Philippines. Facilities that conduct a high-volume of operations daily and who deal with different types of substances have to ensure the flooring they have is able to withstand these pressures.
One advantage of using epoxy flooring is its extremely high resistance to many types of moisture from its environment. Because of this quality, industrial food facilities can guarantee that the flooring they use won't be susceptible to different types of irregularities.
Flooring irregularities can be a major problem, especially if the facility has several large and dense areas where a majority of its transportation operations occur. These operations may vary from manual food transport, fluid transport, and the like. If you're looking for the best type of flooring, choosing an epoxy flooring is one of the smarter choices you can make.
Aside from concerning itself with day-to-day mass operations, industrial facilities also have to take into consideration the massive levels of waste that they produce at a given time period. In food facilities, instances of food or raw material spillages are just some of the inescapable events which can take place in the site of operations.
For this reason, it's important for facilities that are assessing options for their industrial kitchen flooring in the Philippines to choose a type of flooring that requires little-to-no maintenance. Cleaning epoxy flooring doesn't take a lot of effort as it has the capacity to maintain its luster and appearance for long periods of time.
There are various ways to maintain the cleanliness of epoxy flooring, but one of the best pieces of advice out there is to avoid the use of soap-based cleaning implements. Food facilities in general constantly have to deal with large quantities of food materials. For example, if a facility's main operations have to do with the processing and production of chocolate. It's understood that their flooring is prone to receiving hard-to-clean stains.
There is a tendency to approach these types of spillage by immediately applying soap or any kind of cleaning chemical. However, the advised cleaning method for this type of situation is to use a light and soft brush along with some warm water. This is in order to reduce the likelihood of the epoxy flooring building up haze faster. For major spills that are tougher to clean, try using soft soap.
Any industrial facility deals with large amounts of various substances, chemicals, and materials. For example, a facility that processes carbonated drinks may deal with chemicals like phenylketonuria, which might eventually spill on the flooring. These spills can cause potential problems that impede the efficiency of the facility's operations. This is especially the case if they have to constantly transport large quantities of ingredients.
The best decision you can make in the event that this situation happens is to conduct extensive research for some of the best choices of industrial kitchen flooring in the Philippines. There is no doubt that you would find a type of epoxy flooring that can become the most suitable material for your business.
Epoxy coating provides high-resilience to your flooring since it is resistant to many types of abrasions. Its strong resistance to potent chemicals makes it one of the most ideal types of industrial flooring.
While the bulk of operations in industrial facilities are machine-based, a minimal level of manual labor is still involved. The epoxy coating's abrasion resistance has many secondary benefits. For example, this type of flooring may be able to reduce the number of health hazards and risks that can affect your facility's pool of employees.
Benefits of Flowseal EPW Flooring

Now you've acquainted yourself with one of the most commonly used and well-trusted types of industrial kitchen flooring in the Philippines. It's time for you to conduct your research on some of the most trusted brands in the epoxy flooring industry. Flowcrete offers some of the best flooring solutions for your industrial requirements.
The most suitable kitchen flooring they have on offer for you is the Flowseal EPW. You might begin to ask yourself about the benefits that you can get with this product. In fact, there are numerous answers. The material is seamless, easy-to-clean, and hygienic.
As stated before, it is imperative for industrial facilities to have minimal to zero surface irregularities on their flooring. Choosing the Flowseal EPW would be able to meet those standards. For its aesthetic appeal, the Flowseal EPW offers a highly attractive coating finish, allowing it to greatly enhance the quality and appearance of your facility.
Benefits of Polyurethane Flooring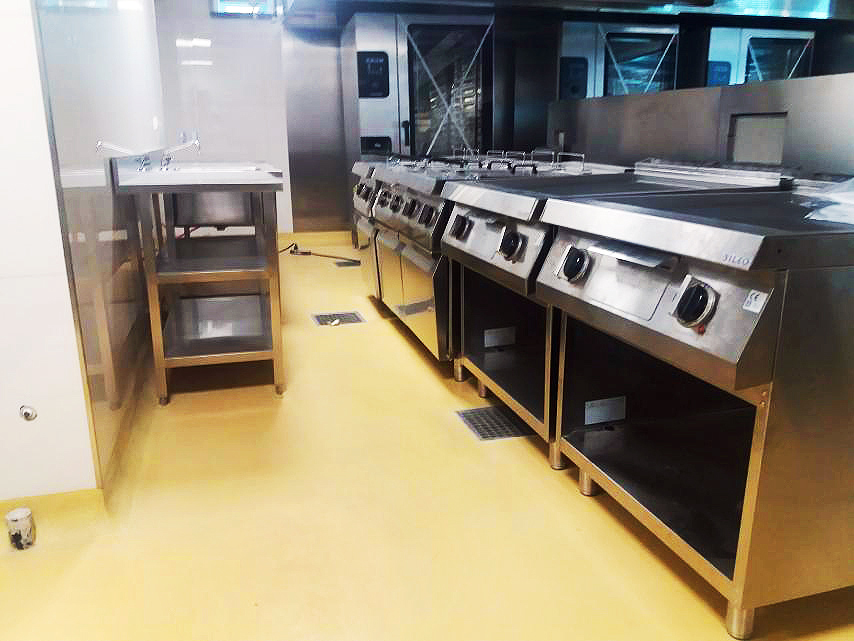 Though concrete has been mainly used as flooring in many types of industrial and construction facilities, very rarely is it used by itself. As a standalone construction material, concrete does not have the same sturdiness and durability as it would have if it were combined with a special type of coating.
Polyurethane is another popular material used to make industrial kitchen flooring in the Philippines. It can be used to coat concrete floors to enhance its capabilities. Similar to epoxy, this material has many attractive qualities that make it one of the best options for your factory's needs. Choosing polyurethane as part of your flooring solution would be advantageous because it is highly porous-resistant, durable, and fast-setting.
As with epoxy, polyurethane's high porous-resistance makes it an attractive option for industrial kitchen flooring in the Philippines. This material is especially perfect for industrial facilities that handle different kinds of fluids or substances on a daily basis.
Abrasive and corrosive substances that come into contact with this flooring will not cause a chemical reaction. Choosing waterproofing in the Philippines will prevent any major damage or irreparable alterations from happening to the polyurethane material. This flooring quality largely benefits industrial facilities whose processes involve the constant wheeling of materials from one point to another.
Both epoxy and polyurethane flooring offer durability – the most coveted quality of industrial kitchen flooring in the Philippines. Durability ensures that the flooring will last for many years, and this type of flooring is especially suited for facilities and their daily volume of operations.
Factory managers need to ensure every aspect of their operations is working seamlessly and are coordinating with one another in the smoothest way possible. Choosing a type of flooring is highly influential in realizing your goal of having smooth-sailing processes.
Two qualities that set polyurethane apart from epoxy flooring are its flexibility and elasticity. There are many instances in which these two words might prove to be an oxymoron to durability, but this is not the case for this particular flooring material.
Concrete coated with polyurethane is much more resistant to scratches and other types of processes that can cause minor deformities on the surface. For this reason, industrial facilities would do well to choose this type of material especially because of the high volume of traffic resulting from their operations. Objects that can cause surface abrasions include metal carts, wheels, and other objects used for transport. However, because of the flexible quality of polyurethane, these instances are easily avoided.
With regards to applying polyurethane as a coating to concrete, industrial facilities that are seeking to meet a deadline would be able to take comfort in knowing that polyurethane is fast-setting. Facilities that are looking to conduct their operations at the earliest time possible would have no concerns when it comes to polyurethane flooring.
Its fast-setting quality, along with its elasticity and durability, makes polyurethane another one of the better types of industrial kitchen flooring in the Philippines.
Benefits of Euco Qwikjoint UVR Polyurethane Flooring

Now you've been given an introduction to the benefits of using polyurethane flooring as part of your industry's needs. Your company would make one of its best decisions to choose Euclid Chemical's Euco Qwikjoint UVR Polyurethane Flooring.
Euclid's polyurethane flooring product has unparalleled benefits compared to other types of flooring out there. Its strong ultraviolet light resistance makes it unsusceptible to different types of exposure to the elements. This coating also has the capacity to support and protect joint edges from constant wheel traffic, reducing breakage in the coating. The coating's enhanced toughness also reduces the instances in which it has to be maintained, which can lead to better budget and savings outcomes for your company.
Choose Flooring Solutions for Your Industrial Kitchen Flooring Needs!
Flooring Solutions is comprised of a team that has nothing but your best interests at heart. Whether you choose epoxy or polyurethane, investing in our services would be to your great advantage. Choose only the best types of industrial kitchen flooring in the Philippines from a trusted and dependable company with a reputable history.
Click here to learn more about the flooring solutions available for your industrial needs.